International Women's Day: Noted acupuncturist Bailing Li worked and sacrificed to establish her practice in West Springfield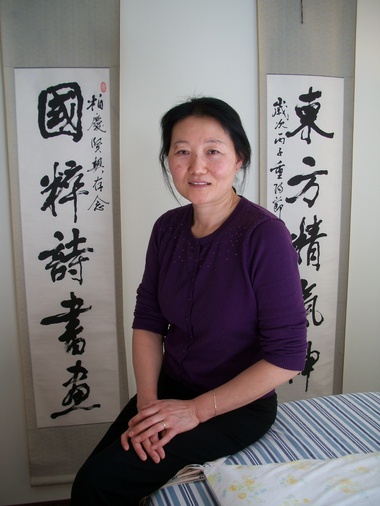 Courtesy of The Republican
by:Judith Kelliher
Bailing Li operates Total Health Acupuncture in West Springfield.
In China, Bailing Li was a professional basketball player and later a university professor and a practicing acupuncturist. But when she came to the U.S. in 1996 to start a new life, her initial path was far removed from the experiences in her native country.
At the encouragement of her brother, Baiqing, who had moved from China to Western Massachusetts to teach tai chi, Li made the decision to leave the successful life she had in Bejing to make a new start at the age of 36.
When she arrived 16 years ago, Li basically began from scratch not only to improve her English but to take the classes necessary for her to earn a master's in business from American International College and to obtain her acupuncture license from the state.
"I knew I wanted to practice Chinese medicine here but at the time I didn't know the path would be very difficult," she said.
With help from a foreign assistance program at South Church in Springfield, Li, now 52, found a place to live and was able to work in exchange to support herself, which included waiting tables, emptying trash, mowing lawns and working as a security guard.
"I was a very respected professor and doctor of oriental medicine back in China but I did whatever it took to make a life for myself here," she said. "I was amazed at myself at how I could do all that. I am a tough person but during that period I cried a lot."
Today, Li has a burgeoning West Springfield-based acupuncture practice, Total Health Acupuncture at 425 Union St.
She sees as many as 70 patients a week—and nearly 100 a week during her busiest times—to treat them with the alternative Chinese medicine of placing thin needles into the skin to stimulate certain acupuncture points to correct imbalances.
It is used to treat a variety of issues such as for pain, stress, anxiety, digestive problems and migraines. Her clients include cardiologists, neurosurgeons and pediatricians.
"A lot of times people come here and they feel helpless and are in such pain and discomfort. When they come here, they usually feel like it's their last shot," she said. "I try my 200 percent to help them."
Total Health Acupuncture also offers alternative healthcare services such as tuinaology massage therapy, auricular therapy and herbal medicine.
Li has built a rapport with many of her patients. .
"They feel very comfortable telling me their story, their secrets, the things they could never tell anyone else," she said. "That was how they could help themselves."
While she adjusted to life in the U.S., she had to accept the fact that she left her then 4-year-old daughter to live with her parents.
She acknowledges it was a tough choice but she knew at some point her daughter would come to live with her. In 2002, her daughter, Rui Li, moved in with her at age 10 and is now a junior at Boston University.
She opened her West Springfield practice on Memorial Drive in 2000, sharing a studio space with her brother's tai chi school. Half of the space was designated for tai chi, while the other side served as her space for acupuncture treatments.
For three years she would teach six days a week with her brother and then see patients in her half of the large room—divided by a curtain that she made—to provide some privacy.
Eventually, her brother closed that studio and Li had to find a new location in 2004, but not before she met in a tai chi class a man that she would marry, Brian Kean.
Li believes that acupuncture is more accepted these days as a treatment for a variety of ailments because information about it is more readily available on the Internet, radio and television. She compares her acupuncture treatment of patients with that of correctly putting pieces together.
"As the acupuncturist, I try and put the puzzle in the right place. I help your body respond better when pieces are in the right place and everything starts flowing better," she said. "Using your own body to treat your own problem is much more effective."